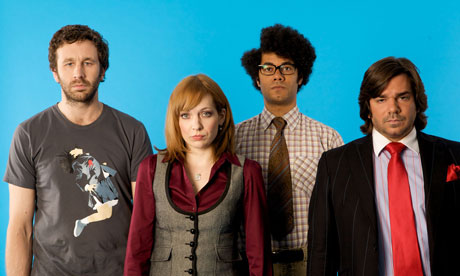 I do not generally like "sitcom" (situation comedies) in television because they are filled with lots of canned laughter. These canned laughter make TV programs less spontaneous and tell you when and how much you must laugh. Despite the fact, we will make an exception with sitcom "IT crowd" broadcasted here in Spain by TV channel Canal+ with the name of "Los Informáticos" (IT is an abbreviation of Information technology).
I really like topics covered in "IT crowd", three main characters working together at the Information technology department of a big corporation each one with his odd habits and living together the most absurd and funniest situations.
It is performed, mainly in the basement of a building property of Reinhold corporation, by two computer scientists and their female leader. Both computer scientists are Moss and Roy, and Jen is the boss. Moss is a computer science geek but with problems with interpersonal relationships and a little bit autistic. Roy is a more normal person, very funny but quite stupid when he must talk to girls. Jen, the boss, does not have any knowledge of computer science but she has finally obtained the job and she must live with these two nerds the more comfortable possibly trying to gain their confidence.
Around the TV program also orbit other characters like the particular CEO of the Reinhold company and other ones who are appearing in the different episodes. It's a very funny TV program and certainly is going to like you if you are interested in new technologies, although I have verified by myself that situations that amuse me excessively they are not as much for my wife who doesn't have the same interest than me in new technologies.
http://www.channel4.com/programmes/the-it-crowd